Erin Harkes
December 7, 2017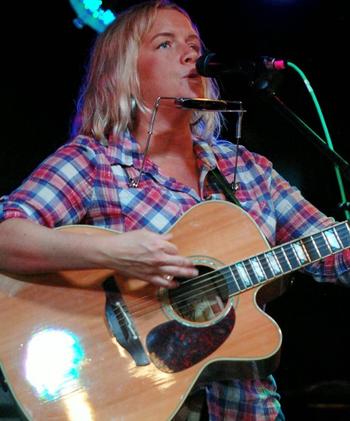 $3 Pint Night welcomes back Erin Harkes to our stage!
It's hard to say exactly what Erin Harkes is. She's a singer/songwriter. She's a full time musician. She's also a part time standup comedian. Whatever she is doing she is doing it on stage!
Erin Harkes is an original singer/guitar/piano player from upstate New York. Erin's musical influence started at a very young age. Hairbrushes became microphones. Stairs became stages. While friends were listening to Debbie Gibson and Tiffany tapes, Erin scoured her mother's record collection for Fleetwood Mac and Creedence Clearwater Revival. She began writing her own songs at age 19 and has released four albums of original material since then. Her first CD was aptly titled "Bar Napkins and Magic Markers" due to the crude way the lyrics were jotted down during her college years.
Erin likes to say that music is her spouse and comedy is her mistress. She tries to give them equal amounts of love and attention. Whether singing songs or telling jokes, Erin commands attention every time she steps foot on stage.
Music starts at 7:30pm. Free admission. $3 Pints all night!
Located at Keegan Bar & Restaurant
Free Admission
21+